Labs can join iPhysicianHub Nationwide Healthcare Hub for free and update their free webpage so that the patients can easily find them and book lab tests online or through their patient mobile app from anywhere and anytime.
Whenever the labs are ready to transition their diagnostic facility to an electronic facility, they can sign up for EMO-iDiagnostics – a cloud-based Lab Information System (LIS) to manage all lab orders and results, including payments. Labs can also use patient reach-out services to promote new tests, discount offers, etc.
Also, labs can download the EMO-iDiagnostics app on tablets or mobile phones and book/confirm lab orders, send text reminders/notifications, collect payments, and print receipts. Labs can also upload the results and notify the patients to access remotely using their iHealth-Assistant app.
Lab Information System (LIS)
AppTest Orders, Reports, Online Payments
Connect with Doctors and Patients
SignUp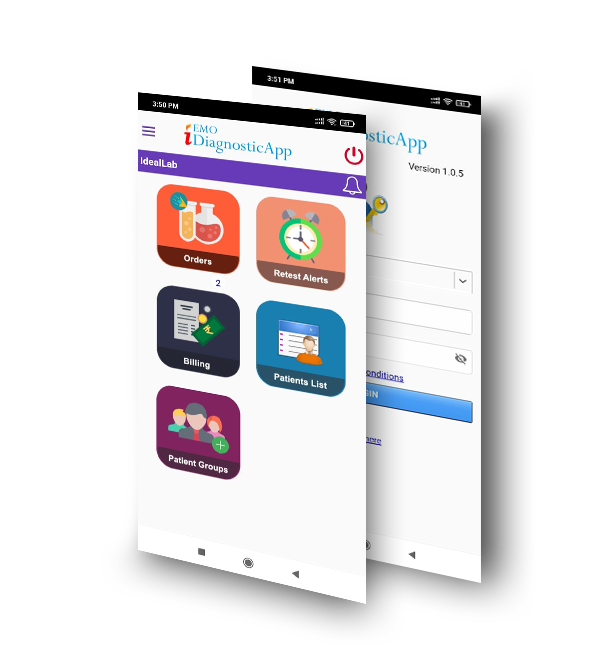 Features
Manage Patient Flow
Telehealth Video-Consultation
Manage New/Existing Inventigation
Enter Investigation Result
Configure Investigation
Detailed Investigation Report
Test wise detailed report
Lab & Radiology mapping
Track Samples
Share Reports Online
Track Payments - Partial payments
Total due
Administration & Billing
Prefilled Pathology & Radiology
Report formats
Referral and Refer Patients Report
Patient Group
Send Reminders to Patient
Get Individual Departments
Financial Reports
Get Employee Wise Financial Reports
Get Patient Wise Financial Reports
Marketing through SMS Payment Integration
Why Choose iPhysician Hub
LIS
EMO-iDiagnostic App is a cloud-based Lab Information System(LIS) which is used to manage all Lab orders, results and online payments. This can also be used for patient reach-out services to promote new tests,discount offers.
TEST ORDERS
By using EMO-iDiagnostics App medical staff ot the lab assistants can book or confirm the test orders .
REPORTS
Lab assistants or medical staff can download the EMO-iDiagnostics App and can view the test order, can also generate reports for the orders which are completed and send to the patients.
ONLINE PAYMENTS
Once the Reports are generated, medical staff can also use the EMO-iDiagnostics app to make payments.
Our Labs